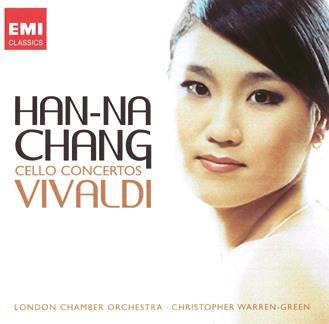 The Strad Issue: January 2009
Musicians: Han-Na Chang (cello) London Chamber Orchestra, Christopher Warren-Green (conductor)
Composer: Vivaldi
Vivaldi seems a surprising choice for a cellist so renowned for her Romantic and 20th-century interpretations, and it would have been interesting to hear from Han-Na Chang in the booklet what prompted this incursion into the Baroque. While tempering her playing, she in no way attempts a period performance, and employs the poetic phrasing and depth of interpretation that are her hallmarks.
It is Chang's slow movements that stand out. Expressive playing high on the D string is a recurring feature, brought down to whisper so hushed as to barely be audible in the Adagio of the tragic C minor Concerto RV401. Her playing of the sighing lines of the Adagio of RV420 is most affecting, and the Largo of RV408 in E flat major, altogether the most pleasing concerto on the disc, is beautifully phrased and eloquent, though for my taste her occasional portamentos go a bit too far.
There are some concessions to period style. I like the variety of continuo instruments, with the organ particularly effective in the swelling line of RV418's Largo, and, while Chang uses plenty of vibrato in the Largos, she does allow the odd open A string in the Allegros. These outer movements boast many passages of cross-string work played impressively fast and with occasional fire. The orchestra plays on modern instruments but, apart from the odd bulging suspension, keeps things tight and neat.
The recorded sound is bright with most detail audible, though occasionally, as in the finale of RV418, it is marred by reverberation and, strangely, at the end the disc, the dominant of the chord sounds on after the piece has ended.
JANET BANKS