To go with our August issue article on the most compelling arrangers of pop songs, we've brought together some of the best examples from recent years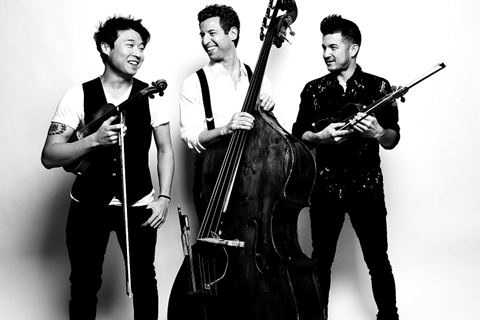 Most classically trained string players have been asked at some point to perform arrangements of non-classical works – from basic pop tunes for string quartet or trio at wedding ceremonies, to collaborations with jazz and pop singers in larger orchestras.
Increasingly, the boundaries between musical genres have blurred, as musicians from the pop world turn to acoustic accompaniments alongside their electronic equivalents, and a vast array of string arrangements have gone viral on YouTube. In the past the term 'crossover' has sometimes signified lower-quality playing, but as the profiles of musicians like the ones featured below grow – matched by enthusiasm from wider audiences for classically trained performing – it is evident that embracing and adapting music from all spheres need never be an exercise in dumbing down.
'The Pulp Fiction arrangement was the product of two very intense days of work,' Raphaël Merlin of the Ébène Quartet tells The Strad. 'We wanted to create a harder rock sound for the high-energy rhythms at the beginning, but in the middle we transformed the song into something very different – a romantic, slow tango, which really stretched the bluesy harmonies. It was a magical experience, as we had all memorised the work and barely wrote anything down; it was a collective creation.'
Time For Three violinist Charles Yang: 'I remember that for Sweet Child o' Mine we were working with two wonderful arrangers called Dave Edgar and Chuck Palmer, who brought with them a skeleton of how the song would work – pretty much a straight arrangement of Sweet Child o' Mine for strings. It would be very simple to play the exact harmonies and melodies, but that's not what we were there to do. We love twisting the song into something that for us is quite complicated and clever, but for the audience sounds fresh, and unlike a standard cover.'
'As musicians we train all our lives to play these beautiful instruments in a beautiful way, so when we play mainstream music it gives us a unique opportunity to reimagine these songs with substance and quality,' says cellist Patrick Laird of Brooklyn Duo. Indeed, the success of Laird's popular arrangements is drawing more listeners to explore classical music as well. 'Our audience see Brooklyn Duo playing popular music all the time and become used to the way we perform,' he says. 'So when they see us perform classical music, that familiarity remains and there's more engagement.'
'I don't really write down ideas – they come about through natural improvisation and experimentation. In this case I took a tune that I grew up with and know very well, and developed it a little with some interesting cello techniques. It is just something I do for fun and relaxation, as I like to experiment with different genres. If the music is strong, then I'm interested in playing it.'
These quotes are from a longer article in the August 2018 issue of The Strad. To read it in full, download the issue on desktop computer or via the The Strad App, or buy the print edition