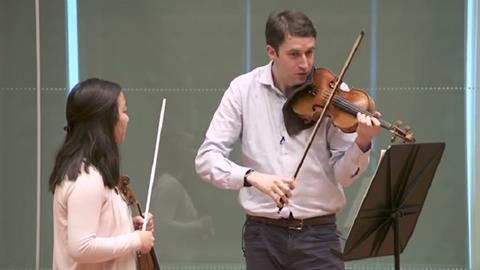 I think you have to play a little more soloistically in an audition than you would in a section' - Noah Bendix-Balgley
Berlin Philharmonic first concertmaster Noah Bendix-Balgley gives an orchestral audition masterclass on the first movement of Mozart's Symphony no.40. The violin student is Ann Yu.
The masterclass was one in a series given by members of the Berlin Philharmonic over three days, focusing on orchestral repertoire and audition preparation, at New York's Carnegie Hall in 2015.
Read: 10 tips for a successful orchestral audition
Watch: Berlin Philharmonic violinist Christian Stadelmann gives Don Juan masterclass