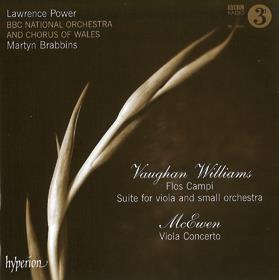 THE STRAD RECOMMENDS
The Strad Issue: January 2012
Description: The leading British violist explores more of the Tertis legacy to great effect
Musicians: Lawrence Power (viola) BBC National Orchestra & Chorus of Wales/Martyn Brabbins
Composer: Vaughan Williams, McEwen
John Blackwood McEwen's Viola Concerto was the first of many works commissioned by the great English virtuoso Lionel Tertis during his lifelong crusade to enlarge the instrument's repertoire. Premiered in 1901, it surely qualifies as the 20th century's first viola concerto. Not that it sounds especially avant-garde: the substantial, half-an-hour-plus composition is rather indebted to the New German School, its opening fanfares somewhat redolent of Liszt's First Piano Concerto. McEwen deals cannily with the problems inherent in pitting a viola against the full symphony orchestra.
In Hyperion's nicely balanced recording, Lawrence Power is always clearly heard, without needing to be unduly spotlit. His playing impresses by its aplomb in the face of passagework that takes him to the upper reaches of the viola, without for a moment compromising the beauty of his tone.
The works of Ralph Vaughan Williams that complete the CD were also written for Tertis, in 1925 and 1934. The earlier piece, Flos campi, achieves haunting sonorities through the use of a chamber orchestra and a humming chorus. Power blends beautifully with the several woodwind soloists that share the limelight with him. In the eight-movement Suite, he has a more traditionally solo role, which he again fulfils with great virtuosity and, when appropriate, humour. This CD can takes its place alongside Power's benchmark recordings of the concertos by Bowen, Forsyth, Rubbra and Walton. May he soon turn his attention to Benjamin Dale.


Carlos María Solare