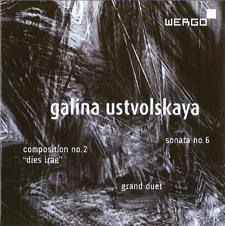 The Strad Issue: January 2012
Description: Compelling music by a contemporary Russian who pulls no punches
Musicians: Ludus Gravis/Stefano Scodanibbio*, Rohan de Saram† (cello) Fabrizio Ottaviucci*, Marino Formenti† ‡ (piano) Laura Mancini* (wooden cube)
Composer: Ustvolskaya
Make no mistake: this isn't an easy disc to listen to. The reclusive Russian composer Galina Ustvolskaya's uncompromising musical language, full of harsh sounds and extremes of dynamics, is far from immediately seductive. But it's an utterly compelling recording that grips from start to finish. And the performances, delivered with unfailing conviction and sincerity, bring a kind of timeless monumentality to the music that feels absolutely right.
Ustvolskaya's Composition no.2 'Dies irae' (1972–3), for the unlikely combination of eight double basses, piano and hammered wooden cube, feels almost like a spiritual rite with its harrowing, incessant dissonances and terrifying climaxes. Yet bass ensemble Ludus Gravis, with bassist Stefano Scodanibbio conducting, finds a strange beauty in this vicious, violent music, with playing of laser-like precision and some astonishing blends in their chords and clusters. There's immense subtlety here, despite the brutal context.
The earlier cello-and-piano Grand Duet (1959) feels closer to a more traditional chamber work, but the violence and hammered repetitions are already there. Rohan De Saram gives a startlingly intense performance, matching Ustvolskaya's extreme demands with playing that's full of energy and due seriousness. Even in his veiled, hushed playing in the unearthly slow final movement, he never loses his determined focus.
Recorded sound is transparent and warm. There's little sense that the recordings were made at live performances, save for a few of powerful pianist Marino Formenti's strings that have (understandably) gone out of tune by the end of the Grand Duet.
David Kettle