Violinist Yennifer Correia says the altercation took place when the airline employee refused to permit her to carry her violin onto the plane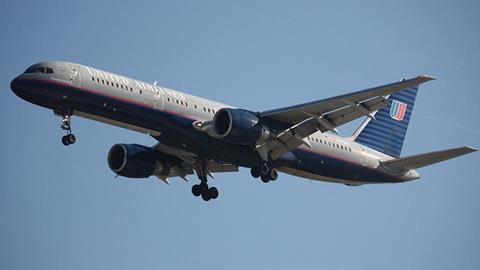 Orchestral violinist Yennifer Correia has accused a United Airlines employee of attempting to 'wrestle away' her instrument as she attempted to board a flight at Houston George Bush Intercontinental Airport in the US.
The musician, who was on her way to perform with the Missouri Symphony Orchestra, has published a letter describing the incident, written by Houston lawyer Philip A. MacNaughton and dated 4 June 2017, on her Facebook page.
'Yennifer Correia...was in the process of boarding her flight from Houston to St Louis when a United supervisor refused to permit her to carry her violin onto the plane,' MacNaughton writes. 'Ms Correia explained that it was necessary for the instrument to remain with her and asked what her options would be. The United supervisor told Ms Correia there were 'no options' and became belligerent when Ms Correia asked for her name
'Without provocation, the supervisor for the Chicago-based carrier then lunged for Ms Correia's case and, incredibly, tried to wrestle it away from the musician. Ms Correia screamed for help. The United supervisor threatened to 'call security' and Ms Correia responded, 'Please do!' at which point the United supervisor ran away.'
The letter goes on to claim that the incident caused Rice University graduate Correia to miss her plane and that the violinist is also concerned about 'possible damage to her hand from the attack by the United supervisor.'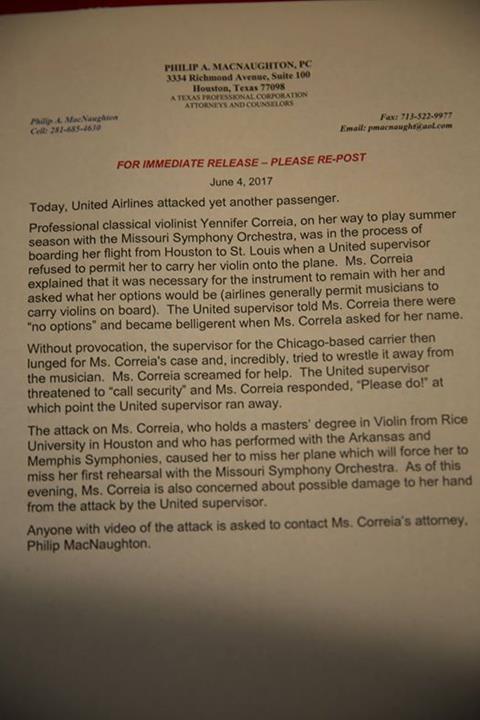 In January this year Florida State University graduate student Carrie Miller set up a Go Fund Me page to replace her cello, which she claimed was smashed to pieces on a United Airlines flight, while in June 2016 violinist Yura Lee reported being kicked off a United Airlines flight for attempting to stow her instrument safely below seats.
United Arilines carry on baggage regulations state: 'You may carry a violin, guitar or other small musical instrument on board as part of your carry-on baggage allowance as long as the instrument is placed in a hard case and there is space in the overhead bins or under the seat in front of you when you board the aircraft.'