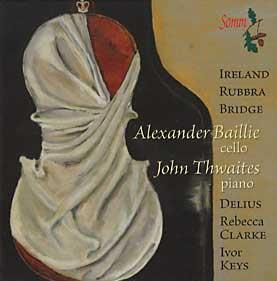 The Strad Issue: January 2013
Description: Consummate playing that mines a rich seam of British cello repertoire
Musicians: Alexander Baillie (cello) John Thwaites (piano)
Composer: Bridge, Delius, Ireland, Rubbra, Clarke & Keys
This release of 20th-century British cello sonatas, recorded over a six-day period in December 2012, is a significant one for a cellist whose recordings are well spaced these days, and reveals a depth of understanding and a nobility of interpretation that is only achievable with maturity. If the recorded sound is not highly polished, this somehow only lends realism to the performances.
The extended second movement of Bridge's Sonata boasts some beautiful shifts and playing of deep intensity from both, and the first movement with its well-chosen period portamento conveys a feeling of ease from Alexander Baillie and John Thwaites, musical partners for 30 years. Baillie's pianissimo bow control in the central section of the Delius is breathtaking, all the subtleties of detail rewardingly audible. The playing of the emphatic statements in the first movement of Ireland's Sonata is powerful and muscular, and there's gritty bowing in the Debussyan finale. Baillie could have been recorded more to the fore in the third movement of Rebecca Clarke's Sonata – an occasional problem on this first disc – but its return to life as blood flows through its veins again is thrillingly uplifting.
Whereas Bridge, Delius, Clarke and Ireland's cello sonatas were all written between 1913 and 1923, the other sonatas here are both postwar works. Rubbra's neo-Classical first movement draws powerful, impassioned playing from Baillie, though his tone occasionally falters on the highest notes, and in the Theme and Variations movement he varies vibrato to masterly effect. The duo makes a convincing case for Ivor Keys's 1960 Sonata, whose mournful alternating semitone theme sings out in Baillie's expressive hands.
JANET BANKS