The bow will be sold at Tarisio's London Auction later this month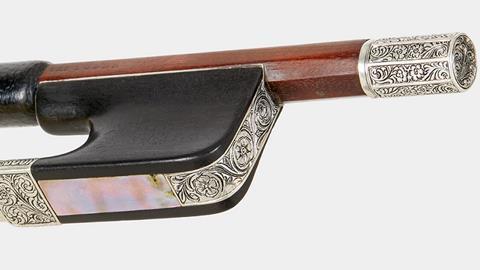 An English cello bow by James Tubbs, previously owned by Jacqueline du Pré, is to be auctioned by Tarisio in London this October. Accompanied by its original wooden box bearing an inscription from du Pré, the bow weighs in at a fairly hefty 87.5 grams. The sale price estimate is £20,000-£30,000.
According to Tarisio director Jason Price:
'The round stick is made of dense, chocolate-brown pernambuco. The head is typical of Tubbs, who used a compact and almost violin-shaped model for the heads of his cello bows, and the original engraved silver headplate is fixed with threaded pins.
'The frog has no pearl eye, and its long and wide ferrule is slightly rounded at the front corners. The original screw features fine turned threads and tapers to a long point. The silver-capped button is long, even for Tubbs, at 19.5 mm. The engraving on the bow is exceptionally fine, with floral motifs, fern patterns, several large Tudor Rose designs and the number '1' to the end of the button.'
The bow will be displayed at a public viewing from 23–24 October 2016 at the Westbury Hotel in London. Bidding opens on 11 October and closes on 24 October. For full details visit Tarisio.
Read: Remembering cellist Jacqueline du Pré
Watch: Jacqueline du Pré on learning to live without the cello