Violinist Roman Kim experimented with new and interesting techniques to arrive at his arrangement of the famous work, part of Bach's Orchestral Suite no.3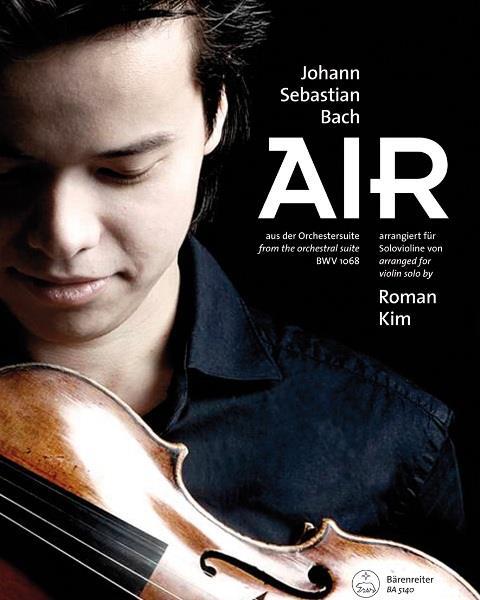 The idea to transcribe Bach's Air came to me, while practising at my music college in Cologne. That day I had heard Bach's Air on YouTube. The music inspired me: the melody, the harmonies and its polyphony.
While practising, I tried to play the top part together with the bass line. It sounded nice but it was not easy... So I played the melody and plucked the bass with the left hand (a nice exercise!) But then one of my best friends, Jure, knocked on the door. He had heard my attempts and said, just for fun: 'Hey, why don't you play all voices together?' He always has crazy ideas! 'Why not? I'll try,' I thought.
I quickly realised that it wouldn't work without scordatura, so I tuned the E string to C. As I played the first few bars we laughed because of the unusual sound - like a small string quartet on a single violin. That was amazing!
For the next two weeks I worked almost exclusively on this piece. My primary object was to retain as many voices from the original score as possible so as not to lose Bach's marvellous harmonies. Sometimes the physical limitations of the instrument forced me to emphasise the parts differently than in the original version. The equilibration of the counterpoint thus places demands on the player that may at first seem unexpectedly and subtly difficult.
While I worked on my transcription I discovered some new ways to play the pizzicato with the left hand. For example a 'reverse pizzicato' – not plucking the string inwards, as we are taught, but the other way round. This makes it easier to play the part in combination with pizzicato. Sometimes I was forced to grip the string with the fifth finger - my thumb. These new ways made possible a lot of things I couldn't imagine before.
I'm looking forward to the release of my arrangement by Barenreiter and would be very proud and glad if you also played this amazing piece! And it would be my great pleasure to answer your questions regarding the transcription. This wonderful music cannot help but inspire persistence and, in the end, will sound simply beautiful. I wish you success and a lot of fun!
Watch Roman Kim performing his Bach Air arrangement below:
Subscribe to The Strad or download our digital edition as part of a 30-day free trial. To purchase single issues click here.