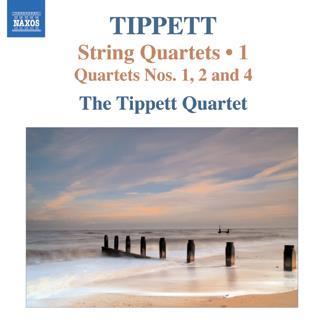 The Strad Issue: January 2008
Musicians: Tippett Quartet
Composer: Tippett
Tippett himself coached the Lindsay Quartet (as it was then called) for its recording of his first three quartets (ASV) and wrote the last two for the same players. How much the composer became swept away by the big, bold and energetic style that characterised the Lindsay's playing is questioned by this first disc of a complete cycle from the young Tippett Quartet.
If in the 1970s the Lindsay was pointing to the music's modernity, the Tippett now has the luxury of looking backwards to find a greater degree of lyricism in music whose roots hark back to Beethoven. Technically the players rise to the many challenges made by the composer, at times with more certainty than the Lindsays, and we arrive at the finale of the Fourth before questioning the security of intonation. Though in general they display an ample dynamic range, they take a more intimate view of the First Quartet, and soften moments of acerbity in the scoring. If tempos generally show little variance from those used by the Lindsays, the Tippett does employ a more urgent pulse in the second movements of both nos.1 and 2, and in so doing gives a more purposeful shape to the music.
Those two scores come from when the composer was relatively young, but by the time he reached the Fourth in 1978 there is more aggression and dissonance, and from the start the music plunges into a conflict that extends through much of the score. The Tippett Quartet stops short of the Lindsay's frenetic finale, marked 'very fast', though the composer was probably looking for an atmosphere that was verging on turmoil.
A scrupulously clean and clear recorded.
David Denton