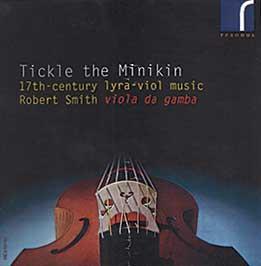 The Strad Issue: January 2014
Description: An exemplary showcase for the music of a forgotten member of the English viol consort
Musicians: Robert Smith (viola da gamba)
Composer: Mace, S. Ives, Coleman, Taylor, Jenkins, Young, Steffkins, Esto
This 35-track disc features accounts of 17th-century English solo lyra viol music, sourced from two collections, particularly the British Library's Manuscript Mus.249. It comprises dances and other pieces by the eight named and some anonymous composers. Grouped in sequences according to the eight different tunings demanded, this repertoire exploits multiple-stopping, implied polyphony and a variety of expressive devices typical of 'the lyra way'.
Lacking a suitable lyra viol, Robert Smith uses a seven-string bass viol with the seventh string removed and fret positions modified as necessary. His tone is sonorous and his readings are technically assured and mostly musically engaging, although his characterisation of the unattributed pieces in Lancashire Pipes tuning seems a touch under-explored. Nevertheless, the dances by Jenkins, Young and Steffkins are strongly projected and he captures the spirit of the anonymous 'Thumping Almaine' and the two most extended items, 'Carillon' and 'Jemmye', nurturing nuances of phrasing and tempo, as well as a variety of ornaments, with care and refinement. He sometimes introduces left-hand pizzicato ('Thumpe'), and he even includes a col legno effect when beginning an Air by Mace.
The exemplary recorded sound enhances this lyra viol showcase, which, though demonstrating fascinating sonorities long neglected, may test the attention span at one sitting.
Robin Stowell