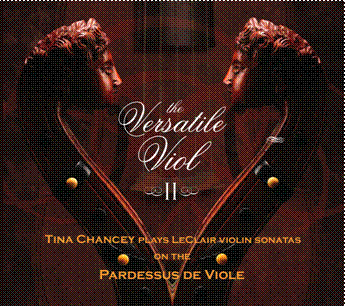 The Strad Issue: January 2010
Musicians: Tina Chancey (pardessus de viole) Susie Napper (basse de viole) Webb Wiggins (harpsichord)
Composer: Leclair
In this second disc in her series championing the range and versatility of the viol family Tina Chancey gives persuasive accounts of five of Leclair's violin sonatas on the pardessus de viole, a descant viol played in 18th-century France by cultivated amateurs and especially by aristocratic young women. The sonatas, from Leclair's third (op.5, 1734) and fourth (op.9, 1743) books, illustrate 'les goûts réunis', a synthesis of the Italian and French playing styles of the period.
Chancey captures the spirit of these sonatas with idiomatic courtly elegance, poise and control. She is totally in command of their architecture, inner detail and expressive intentions, and her beautifully shaded tonal values unfold each phrase with a satisfying feel for natural weight. Movements such as the finales of op.5 no.8 and op.9 no.2 allow her full rein to explore her instrument's agile athleticism and virtuoso potential, although her technical dexterity seems somewhat stretched in the Allemanda of op.9 no.10. Her stylish ornamentation also adds expressive weight to these accounts, notably in the Adagio and Gavotta of op.5 no.7, and harpsichordist Webb Wiggins and gambist Susie Napper provide colourful and evocative support throughout. The vivid recording, dated May 2001, reaps the benefits of a resonant church acoustic.


ROBIN STOWELL