Violinist Nicola Benedetti talks about her mission to make string teaching available for all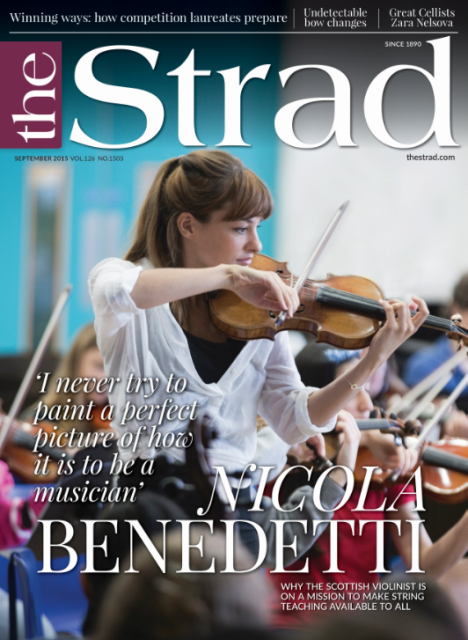 The Strad's September 2015 issue is on sale now, in which Scottish violinist Nicola Benedetti talks to Pauline Harding about her active role in UK education projects, and her down-to-earth attitude to discipline.
Elsewhere in the the issue, former international competition winners discuss how they prepared for what can be the most nerve-racking experience of any musician's life; Paul Prier looks back over the life and career of his father, Peter Paul Prier, who founded America's first violin making school; Julian Haylock examines the playing style of Zara Nelsova, the American cellist known for her poise, presence and flawless technique; and Myles Jordan examines the art of the imperceptible bow change for cellists.
In our regular sections: In Focus gives a close-up view of an unusual double bass from c.1770 made by Zuanne and Ignazio Ongaro; US bow maker Steve Beckley discusses his method for replacing a bow head in Trade Secrets; Cremonese luthier Leonidas Rafaelian invites us into his workshop in My Space; Gypsy violinist Roby Lakatos gives a guide to gypsy fusion playing in Masterclass; violin professor Lenneke Willems gives tips on teaching vibrato in Technique; cellist Joseph Crouch takes us through his Practice Diary; teachers give their opinions on how cellists can avoid developing pain from thumb position in Ask the Experts; and violinist Jaime Laredo and cellist Sharon Robinson talks about Brahms's Double Concerto as their Sentimental Work.
We also bring you news of the latest competitions, products and auctions, and comprehensive reviews of concerts, CDs and books.
The digital magazine is on sale now. The print edition is on sale from Tuesday 18 August 2015.