The issue includes the wonderfully preserved 'Salabue', 'Berta' Guadagnini violin and New York Philharmonic concertmaster Glenn Dicterow on his 34-year career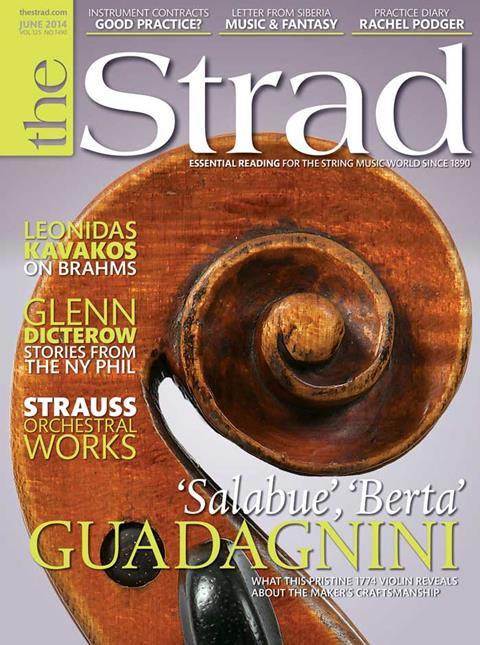 The June issue of The Strad is on sale now, in which we investigate the beautifully preserved 1774 'Salabue', 'Berta' Guadagnini violin and what it can tell us about the maker's craftsmanship.
The issue also includes: New York Philharmonic concertmaster Glenn Dicterow on 34 years in the hot seat and his hopes for the future of US orchestras; instrument contracts between buyers and sellers; orchestral principals on the demands and rewards of Richard Strauss orchestral works; former Guarneri Quartet violist Michael Tree on the musicians and pastimes that have made an impact on his life; and six string players on the challenges of starting your own festival.
In our regular sections: In Focus gives a close-up view of a 1622 cello by the Brothers Amati; Joseph Curtin and Alex Sobolev discuss fingerboard design in Trade Secrets; Montpellier-based maker Friedrich Alber invites us into his workshop in My Space; Leonidas Kavakos guides us through Brahms's Violin Concerto in Masterclass; Simon Fischer talks higher compatibility solutions in Basics; pedagogue Vladimir Panteleev discusses the best way to start youngsters on the cello in Ask the Teacher; Baroque violinist Rachel Podger takes us through her Practice Diary; and three instrument makers and repairers discuss how to keep an instrument clean of rosin in Ask the Experts.
Plus, we bring you news of the latest competitions, products and auctions, and comprehensive reviews of concerts, CDs and books.
The digital magazine is on sale now. The print edition is on sale from Wednesday 28 May 2014. Subscribe to The Strad or download our digital edition as part of a 30-day free trial. To purchase single issues click here