The fascinating story of Nicolò Amati's 1677 'Romanov' viola, which was once part of Russia's imperial collection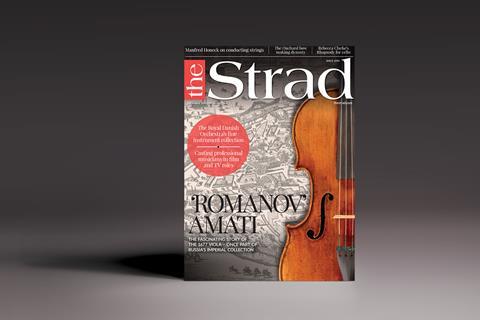 Made in 1677, the 'Romanov' viola by Nicolò Amati is considered one of the maker's late masterpieces, created when he was in his ninth decade. Alberto Giordano and Rudolf Hopfner investigate the instrument's turbulent history and examine how it fits into the Amati family's oeuvre.
Denmark's oldest ensemble, the Royal Danish Orchestra, has a string sound that is entirely its own, and this is partly because of its unique collection of instruments, as Andrew Mellor reveals.
It is impressive when an actor learns a musical instrument for a role, but a badly-mimed performance can break the suspension of disbelief. Kathleen Ross, founder of Music in Vision, explains why studios need to use professional musicians on screen as well as off.
British composer Rebecca Clarke's 1923 Rhapsody for cello and piano was never performed in its creator's lifetime, but is now receiving attention from Raphael Wallfisch and John York, who makes the case for this forgotten work.
Émile Auguste Ouchard and his son Bernard are regarded as among the finest bow makers of the 20th century. Thomas Martin, Andrew McGill, Martin Lawrence and George Martin examine the Ouchard legacy, in particular their double bass bows.
Manfred Honeck was violist with the Vienna Philharmonic before becoming director of the Pittsburgh Symphony. He tells The Strad how his former role has informed the conductor he is today.
In our regular sections:
In the first of two articles, Leila Josefowicz offers her Masterclass on Berg's Violin Concerto; this issue's Technique from former Royal Academy of Music teacher Wendy Max looks at how to inspire young children to learn new cello playing skills; British cellist Laura van der Heijden offers her Life Lessons; plus in Sentimental Work Linus Roth describes how he discovered Weinberg's Violin Concerto. Our Postcard this month comes from the Chamber Music Festival for the Next Generation in Krzyżowa, Poland.
In Focus examines an 1819 violin by David Stirrat; Yann Poulain presents a method for flattening planes for use in the workshop in Trade Secrets; My Space peeks inside luthier Honorata Stalmierska's work place in Poznań, Poland; and in Making Matters Shlomo Moyal explains how he restored a 1685 viola da gama that had been almost destroyed.
We also bring you news of the latest competitions, products and auctions, and comprehensive reviews of concerts, CDs and books.
Plus, in your December digital edition:
Extra photos of the 'Romanov' Amati viola, including a hi-res CT scan of the neck root
Audio clips of Anne-Sophie Mutter playing Hedwig's Theme from the Harry Potter movies
More of the In Focus instrument, a fascinating violin by 19th-century Scottish luthier David Stirrat
Bonus views of Honorata Stalmierska's Poznan workshop in My Space
More images to tell the tale of the miraculous viola da gamba restoration, following its damage on an Alitalia flight last year
And as ever, clips from the three recordings on which we've seen fit to bestow our illustrious monthly designation: 'The Strad Recommends'
The digital magazine and print edition are on sale now, or subscribe to access the entire magazine onlineRo here
Do YOU have something to say about the new issue – or about the strings world generally? Send letters to the editor at thestrad@thestrad.com.