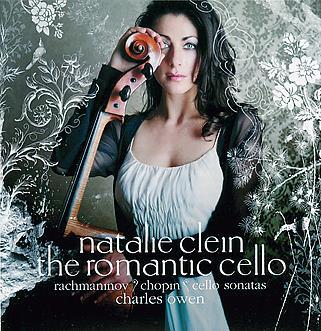 The Strad Issue: January 2006
Musicians: Natalie Clein (cello) Charles Owen (piano)
Composer: Chopin, Rachmaninoff
Having made her debut recording two years ago, 1994 BBC Young Musician of the Year winner Natalie Clein is now launching the first of three discs for EMI with two sonatas by pianist–composers at either end of the Romantic era.
Her Chopin is notable for its delicate, understated approach and carefully shaped phrases. The first movement is reflectively played, but the rather sedate Scherzo lacks the magic of its waltz-like trio, which is breathtakingly beautiful and airy, with a continuous, smooth tone. In the Largo, Clein creates a lovely rounded sound on the C string and plays with lyrical beauty, while in the finale I loved her forceful double-stopping passage, with its impressively expansive bowing, though overall the movement lacks a feeling of urgency.
At times the balance perhaps favours the piano too much: Clein is excellent at grading her tone colour and volume, but never seems to turn the dial up to full volume and intensity – there's a feeling that she's holding something back that never quite arrives.
Rachmaninoff's 1901 Sonata gives many moving moments to Clein's chamber partner of ten years, Charles Owen, especially among the second subject material. Clein herself gives a gutsy performance in the Scherzo, belying her Victorian maidenly appearance on the cover, and digging well into the lower strings. The finale feels like a real event, opening with a flurry of excitement and intensity that remains present throughout.
A magical performance of the Vocalise with a hushed, silky tone up on the D string concludes the disc.
JANET BANKS