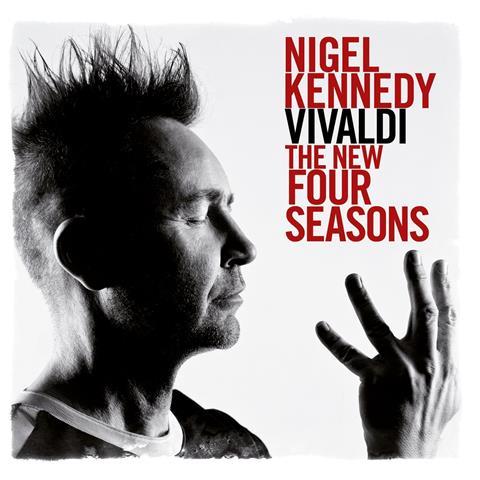 THE STRAD RECOMMENDS
The Strad Issue: January 2016
Description: It's The Four Seasons, but not as we know it
Musicians: Nigel Kennedy (violin)
Composer: Vivaldi
How do you like your Vivaldi? Classic, like the several recordings by I Musici, or fiercely 'authentic', like Adrian Chandler's recent disc (see November issue)? Cool like James Ehnes (see page 90) or eccentric like Red Priest? Nigel Kennedy's (in)famous 1989 recording should need no introduction but here he returns to this evergreen set of concertos with the benefit of a quarter of a century of experience and ideas. And it's like no Four Seasons you'll have heard before.
'We are now… well into the 21st century,' writes Kennedy, 'so I want to present an interpretation which is relevant to the modern day.' How you respond to his New Four Seasons will depend largely on how you respond to Nigel and his antics. Some will enjoy the sheer individualism of the man and his aesthetic; some will just want to slap his leg and tell him to play nicely with the other boys and girls. There are electric guitars and electronic manipulations here, along with drums and even a jazzy trumpet, not to mention various ululations from Kennedy's Orchestra of Life. And what of the violin playing?
It's not the cleanest, but then I don't suppose it was meant to be. And nobody can get a wider range of astonishing sounds out of a fiddle than Kennedy can. But a Four Seasons for the 21st century? I was put in mind mostly of music ranging from, say, the Beatles' White Album to Mike Oldfield's Tubular Bells, with hints of Led Zeppelin and Emerson, Lake and Palmer, which date it roughly to c.1968–73. Conversely, it's Adrian Chandler's scorched-earth authenticism that reminds us how The Four Seasons remains contemporary while Kennedy's unique take on the work is perhaps more a reflection of the vinyl influences of his seaside adolescence. Nevertheless, it's cracking good fun and – whether you can bear the man himself or not – pretty much required listening.
DAVID THREASHER