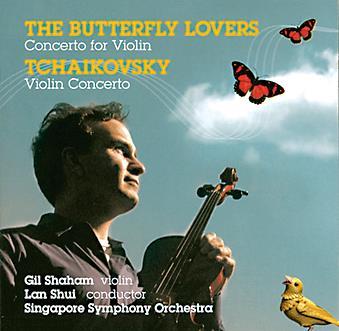 THE STRAD RECOMMENDS
The Strad Issue: October 2015
Description: Lu Siqing's second 'Butterfly Lovers' – with Chinese instruments
Musicians: Lu Siqing (violin) Taipei Chinese Orchestra/Chung Yiu-Kwong
Composer: Chen Gang/He Zhanhao, Kreisler, Ma Sicong, Sarasate, Tchaikovsky, Trad, Wieniawski
The 'Butterfly Lovers' Concerto is, along with the 'Yellow River' Piano Concerto, probably the best-known work of Chinese music in Western concert halls. Written by two Chinese composers in 1959, the piece has no shortage of recordings (one of them by Gil Shaham, reviewed January 2008), including one by Lu Siqing, who recorded it in the 1990s.
The difference here is that the accompanying ensemble is a Chinese rather than a Western orchestra. Two-string fiddles replace violins; bamboo flutes and shawms create a totally different sound from Western woodwinds. While the concerto is often performed with such backing, virtuoso pieces by the likes of Wieniawski and Kreisler are not. And yet, from the eerie opening of Légende to the shrill winds in Sarasate's Zigeunerweisen, it works wonderfully across this precise and well-balanced recording. Lu Siqing's tone and pinpoint delivery stand out against the reedier accompanying texture and his playing is frequently sumptuous.
After such an intriguing opening to the programme, the Chinese and Mongolian folk pieces that follow are less impactful but move the listener towards the pentatonic, three-movement Concerto itself, which sizzles with energy, the thinner orchestral sound never overpowering Lu's deft, impassioned playing. This is a well-conceived and finely played disc.
TIM WOODALL