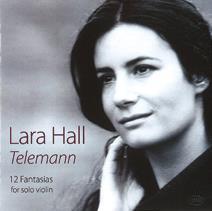 The Strad Issue: January 2012
Description: Too many problems of execution mar an otherwise promising performance
Musicians: Lara Hall (violin)
Composer: Telemann
It is perplexing that someone as well versed in period violin playing as Lara Hall has chosen to realise Telemann's fantasias on a modern violin with the goal of approximating the Baroque sound world as closely as possible, and 'with minimal concession to the natural characteristics of the modern violin'. Perhaps she considered the modern violin the safer option when tackling these tricky and intriguingly elusive pieces, which embrace a fascinating miscellany of European styles.
Although Hall's performances have charm and sincerity, they lack the requisite inventive flair and final polish. Repeats are too often literal or at most only conservatively decorated and some string-fouling and sour intonation remain – double-stopping in 3rds is a particular weakness, especially in no.2, and there is an overall tendency to play slightly sharp. Nevertheless, Hall successfully creates the illusion of a multi-layered texture, especially in the fugal movements of nos.2, 3, 5, 6 and 10, and she plays these fantasias with freedom and expression, even if rubato seems to be introduced as much for her own convenience as for expressive purpose. A couple of 'wrong notes' are replicated in the Largo of no.7 and the first movement of no.11. The recording is pleasingly resonant with warm background reverberation.



ROBIN STOWELL