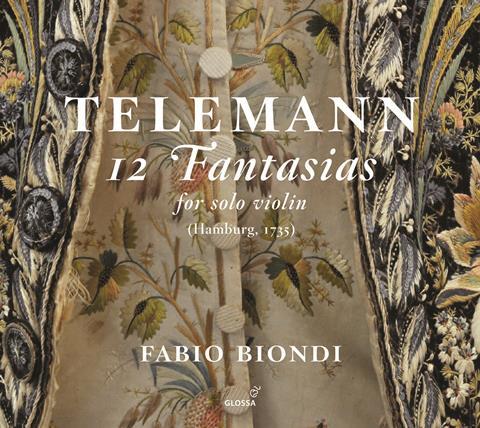 The Strad Issue: December 2016
Description: Solo violin works that represent an alternative to Bach
Musicians: Fabio Biondi (violin)
Composer: Telemann
Catalogue number: GLOSSA GCD 923406
Fabio Biondi's colourful accounts of Telemann's cosmopolitan Fantasias demonstrate technical assurance, style awareness and well-considered use of extempore ornamentation, rubato and other expressive devices. Par for the course are his various liberties with Telemann's text, filling out chords, linking various movements, modifying articulations from slurred to separate and vice versa, adding embellishments on repeats, or changing certain notes. He even reduces the texture as an ornamental ploy in the Allegro of no.7, and his juxtaposition of pizzicato and arco in no.6's Siciliano provides telling unscripted contrast. He sustains a well-punctuated dialogue in the fugato movements, and his conclusions to nos.5 and 12 are characteristically tongue-in-cheek.
The recorded sound is up-front and reverberant, and showcases both Biondi's inventive interpretative subtlety and the rich sonority of his 1767 Ferdinando Gagliano violin. However, Biondi takes the virtuoso element rather too far with his express tempos for the Vivace of no.9 and Allegro of no.11, and his spreading of triple-stopping occasionally results in significant melody notes being omitted or lost to the ear.
Robin Stowell