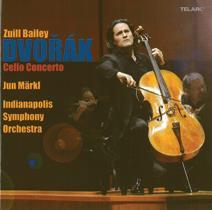 The Strad Issue: January 2009
Musicians: Zuill Bailey (cello) San Francisco Ballet Orchestra, MartinuWest (conductor)
Composer: Tchaikovsky, Shostakovich
The cello masterworks of Tchaikovsky and Shostakovich demand very different playing styles. Although Zuill Bailey gives a technically stunning Rococo Variations, as soon as the Shostakovich opens you feel that it is for this music that he was made.
Bailey, who trained at the Peabody Institute and Juilliard School, has a lot of pent-up force behind his playing, which means that when he sounds purposeful at the concerto's opening, there's a driving force behind that purpose, and when things seem desperate as the cello line shrieks higher and higher, they are well-nigh unbearable. Of course he is capable of holding back – his playing in the earlier part of the Moderato, in which MartinuWest draws out some wonderfully moving playing from the string section, is all the more deeply felt for being restrained, with well-judged vibrato. As the writing becomes more expansive the sound of his 1693 Gofriller grows to full throttle – which in his case is pretty powerful, with bow weight and vibrato in top gear as the music reaches its expressive climax, and with a biting A string tone to match the last movement's biting satire. It is strong stuff.
'Passion' and 'melancholy' are among the first words in the booklet note, and both apply to Bailey's Tchaikovsky, in particular the two shorter works. The innate Classicism of the Rococo Variations is less up his street: although he plays all the rapid chromatic and cross-string spiccato work at the top of the instrument immaculately, there are some raw edges to the melodic playing that the recording, which errs on the side of realism, does not iron out.
JANET BANKS