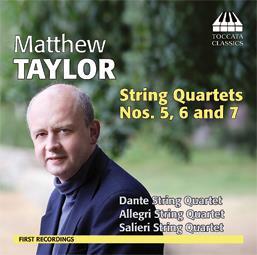 The Strad Issue: January 2013
Description: Three quartets play three quartets by a single composer
Musicians: Dante Quartet, Allegri Quartet, Salieri Quartet
Composer: Taylor

This disc follows the release seven years ago of a selection of chamber works by British composer and conductor Matthew Taylor, and features his three most recent string quartets, each performed by the ensemble that premiered it. Taylor's style is purposeful (though not lacking in humour) and intriguing, essentially steering away from the gritty and the abstract.
In some ways the Quartet no.5 is the most attractive. It bursts in with a brief frenzy of energy and even if the tension soon subsides, the Dante Quartet maintains a clear line of momentum across its three movements, which become increasingly calm and sparse. The playing is precise yet open and the ethereal sheen of the finale is striking.
In the Sixth Quartet, the Allegri doesn't quite make the same impact, even in the opening extrovert 'Giubiloso' movement, but it revels in the second-movement Romanza, written for Taylor's wife on their wedding – suggesting a reflective, quasi-Expressionistic mood rather than one of simply gushing sentiment. The finale, as in that of the Seventh Quartet, is fast and driven. It could take even more precision, but it doesn't feel that the Allegri players are especially holding back.
Despite bearing influences ranging from Laurel and Hardy to Benny Hill in its scherzo, the Seventh Quartet is a substantial work. The Salieri Quartet is nimble and dynamic, well suited to the work's changeable first movement, but also showing a warm blend in the richly harmonic slow movement. The recording quality is ideal throughout.



EDWARD BHESANIA