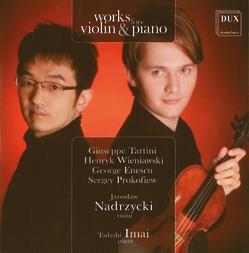 The Strad Issue: January 2012
Description: Promise aplenty from a young Polish violinist
Musicians: Jaroslaw Nadrzycki (violin) Tadashi Imai (piano)
Composer: Tartini, Wieniawski, Enescu, Prokofiev
Polish player Jaroslaw Nadrzycki, 27, is relatively little known outside his homeland, but took first prizes at the Khachaturian violin competition in Armenia in 2010 and the Enescu competition in Bucharest in 2009. He has a slightly splashy tone but he tackles the opening virtuosic works with boundless energy, in a recording with a nicely spacious feel. Tartini's 'Devil's Trill' Sonata whips along in fine style, with Nadrzycki showing his technical proficiencies in every leap and fleet-fingered manoeuvre. Wieniawski's Polonaise brillante is full of bravado and swagger, and the soaring cantilena is full-throated and rich. Pianist Tadashi Imai fades into the background just as he should, giving neatly detailed support.
The Enescu Third Violin Sonata provides some welcome relief from the fireworks. Shot through with folk-inspired phrases and motifs, its sultry melodies are suitably romancing in Nadrzycki's capable hands, and Imai's delicate pianism manages to bring out the cimbalom-like air of the piano accompaniment beautifully. If there is one criticism, it is that there's not a strong sense of the over-arching structure, particularly in the opening movement – Nadrzycki doesn't maintain momentum through its expressive phrases. The final movement does have more dramatic pull, and the players bring satisfying intensity to its thundering climax.
Prokofiev's joyful Sonata in D fares better. Nadrzycki rises to the occasion with the chimerical romancing of the opening, and the strutting third movement is dashed off with dance-like effortlessness. The recording allows Nadrzycki's musical voice to emerge, though it may not have the dark appeal of a reading like, say, Gidon Kremer's.
Catherine Nelson