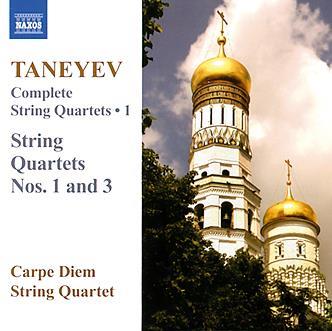 The Strad Issue: January 2008
Musicians: Carpe Diem Quartet
Composer: Taneyev
It has taken us a long time to come round to Sergei Taneyev (1856–1915). Melodiya made several Soviet-era recordings, and aficionados know something of his magnificent opera The Oresteia, but otherwise his symphonic output and chamber music have been largely ignored.
As so often, it is to the likes of Chandos and now Naxos that we owe our growing understanding of this favoured pupil of Tchaikovsky. Both these works bear early opus numbers, but date from the 1890s, when Taneyev was in his mid-thirties and turning forty respectively. The two works reveal Taneyev's often daring explorations of form: more suggestive of the coming century than of old-hat Russian nationalism.
The Carpe Diem Quartet, based at the Capital University in Columbus, Ohio, brings clear enthusiasm for the music and obvious commitment. However, I find both the acoustic and its playing rather too acerbic, and occasionally uneven: while the outcome is laudably diligent, the players do not always make sense of Taneyev's formal probings. The hymnic close (a reprise) to the opening Andante and the fourth of the five movements, an Intermezzo with some nicely managed slurred portamenti, come off best.
Yet the Carpe Diem players' forthright approach serves to highlight, surely rightly, the brazen modernity of Taneyev's writing in places: not as daring as a Roslavets or Scriabin, but audibly putting out feelers towards the 20th century. One is doubly grateful for their inclusion of the intriguingly unbalanced, two-movement Third Quartet, offering a chance to savour Taneyev's bold experimentation in a hefty, 18-minute Theme and Variations. The greatest plus of all.
Roderic Dunnett