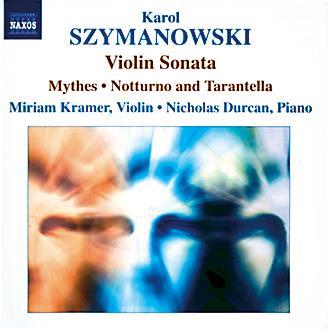 The Strad Issue: January 2007
Musicians: Miriam Kramer (violin) Nicholas Durcan (piano)
Composer: Szymanowski
The performances on this recording are an accurate reflection of the music. At best, they are full of subtle colour and strange, sometimes unsettling atmosphere. Miriam Kramer and Nicholas Durcan are both very good in the Mythes, weaving eerie magic from Szymanowski's inventive writing for both instruments. The third piece, Dryades et Pan, with its meandering, quixotic lines and its constant shifts of character, from earthily seductive to supernaturally ethereal, is wonderfully well played, with Kramer sounding almost like a theremin at times in her shimmying portamentos and sinuous chromatic passages.
Not all of these works share such variety. Kramer brings an unsubtle relentlessness to much of the Tarantella, although hardly playing at the requested 'presto appassionato'. The Sonata suffers most. This early work carries a good deal of white-heat Romanticism, in which niceties of contrast and restraint come poor seconds to excessive emotional striving, which is matched by Kramer in a powerful performance marked by big, fast vibrato. Her playing is notable for the superb handling of Szymanowski's long, intricately contoured lines, where no singer could breathe for minutes on end. But for such highly coloured music the playing is ultimately rather unvarying. Kramer makes amends at the end of the CD with a supple and eloquent account of Roxana's song from King Roger.
The recording, unfortunately, is not helpful, being so close in that lets it us hear the hiss of the bowhair on the string, while depriving us of the richness of sound which it probably produced.
TIM HOMFRAY