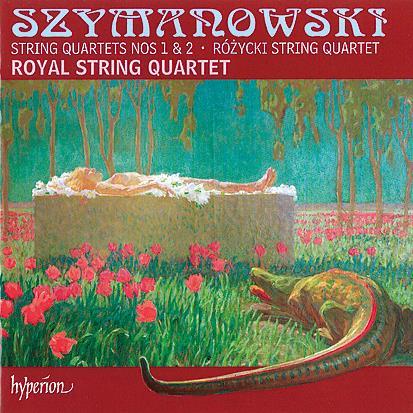 The Strad Issue: January 2009
Musicians: Royal Quartet
Composer: Szymanowski, Rózycki
Szymanowski spent much of the early 1900s studying the folk music of his native Tatra mountains, enthusing that 'each man must go to the earth from which he derives'. As time went by his style gradually became more complex, absorbing influences as varied as Scriabin's sensuous mysticism and Ravel's pointillistic grace and precision. Schoenberg's turn-of-the-century tonal plasticity exerted a profound influence on his First Quartet (1917), while the Second (1927) sees Szymanowski (particularly in the central Vivace scherzando) responding to Bartók's folksong-saturated modernity. Neither work makes for particularly easy listening, yet the Royal Quartet bestride the music's tonal precipices and restless introspective probing with compelling authority.
Struggling to come to terms with an unfamiliar language often causes quartets to toughen their sound as an unintended sonic metaphor. Yet the Royal Quartet's members respond with a velvety tonal seduction that ideally matches the music's languorous sensuality. Furthermore, they trace the elusively exultant quality of Szymanowski's melodic writing with such beguiling intuitiveness that his occasionally prolix structures emerge as supremely inevitable.
As the ideal coupling, the Royal Quartet plays Ludomir Rózycki's three-movement D minor Quartet of 1916–17, a radiantly expressive work whose central Andante takes up where the slow movement of Debussy's G minor Quartet leaves off. The 'finale problem' experienced by so many composers of the period makes itself felt in the occasionally hard-driven last movement, yet the musicians dispel any potential discomfort with playing of heart-warming allure complemented by state-of-the-art sound from producer Andrew Keener and engineer Simon Eadon. Highly recommended.
JULIAN HAYLOCK