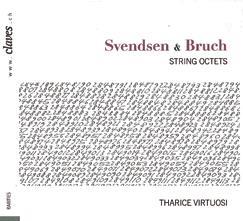 The Strad Issue: January 2012
Description: Two rarely heard string octets that give Mendelssohn a run for his money
Musicians: Tharice Virtuosi
Composer: Svendsen & Bruch
The string octet literature is so dominated by Mendelssohn's exhilarating teenage masterpiece that it has proved almost impossible for other composers to get much of a look-in. In the case of Svendsen's youthful op.3 Octet, a work overflowing with memorable ideas winningly presented, this is particularly unfortunate. Imagine the melodic enchantment of Dvo?ák gently coloured by middle-period Wagnerisms and you won't be too far away from this delightful work's sound world. Bruch's Octet dates from the very end of his long career, yet finds him still composing with a freshness that would grace a composer half his age.
The Tharice Virtuosi is a fine Swiss group whose members emanate from the International Music Academy at Gstaad, when Yehudi Menuhin and Alberto Lysy were the main inspirational forces. They maintain extraordinary clarity and finely judged balance throughout even the weightiest of textures, and combine sparkling vitality, litheness and chamber-scale intimacy to perfection. If in the Svendsen they don't quite match the bracing emotional impact of the Academy of St Martinuin the Fields Chamber Ensemble (Chandos), the Bruch is given a winning performance of captivating brilliance. The recording boasts immaculate production values, apart from some audible intakes of breath during the heavenly second subject of the Svendsen finale.



JULIAN HAYLOCK