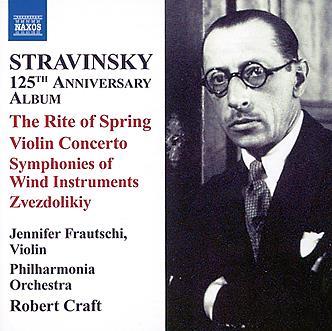 The Strad Issue: January 2007
Musicians: Jennifer Frautschi (violin) Philharmonia Orchestra*, Twentieth Century Classics Ensemble† , Orchestra of St Luke's‡, Gregg Smith Singers‡, Robert Craft (conductor)
Composer: Stravinsky
Robert Craft, a one-time and long-time associate of both Schoenberg and Stravinsky, thinks that the Russian composer's Violin Concerto is his 'most perfectly balanced concert piece'. That's pushing it a bit: the conceit of launching each movement with the same spread chord is clever but what follows is often Stravinsky at his most dessicated, as though the genre had straitjacketed his capacity to surprise and innovate. Jennifer Frautschi, to do her credit, plays as though she is of one mind with Craft. The relaxed feel she brings to the opening Toccata allows for some wistful inflection beyond the reach of many interpreters' po-faced metronomicity. She saves her most biting tone for Aria I, making a fine contrast to the much more inward, authentically operatic reach of Aria II (here, as often, the strongest movement in the piece) before the fireworks of the finale, which are again all the more dazzling because she declines to rush.
The disc is still well worth hearing by anyone with the faintest interest in Stravinsky, as it contains exceptionally pungent (reissued) accounts of two seminal works from the 1920s and a new, savagely authoritative, searingly detailed Rite of Spring in its rarely heard but definitive 1947–67 revision.
Peter Quantrill