A selection of letters The Strad receives each month from its readers around the world: November 2019 issue
Letter of the Month
Matters of the mind
Many thanks to John Beames for his article (Making Matters, September 2019) on the important subject of maintaining and cultivating our mental health. His diagnosis of the challenge is right on target as are his prescriptions for good health.
What bears further discussion is the fact that, as with many health conditions, mental illness is represented by a full spectrum of symptoms, diagnoses, and treatments. As a maker and restorer with bipolar depression – mostly mood swings on the depressive side of 'normal' with few hypomanic episodes – I have the good fortune to fall somewhere in the middle. Treatment does not guarantee there will not be days or even weeks when opening up the workshop and sitting among my tools is as much as I can get done, all the while wishing I could work on instruments-in-progress or at least shave some wood. But it can also mean that, for the majority of the days in the year, I can apply myself to work I love, motivated by passion and a witnessing of the fruits of that day's labour.
For those of us with more complicated conditions, the most important lesson in John's piece is that there is more we can do than just rely on traditional treatments. Even living with what is referred to in the professional literature as a serious mental illness, I have found my regimen of psychotherapy and medication strengthened by many of the strategies John outlines. The lesson from my experience is that a holistic approach to recovering and maintaining a productive work life in this trade offers the best odds of ongoing success.
I referred in my opening paragraph to the cultivation and maintenance of mental health. We have the opportunity to improve it only once we have established a stable base line. This is true of the maker or restorer who, examining their circumstances, discovers the kinds of environmental factors John highlights that challenge their wellbeing, and also of those of us with brain chemistry imbalances. Whether we find ourselves in one group or the other, we can be better than just 'well' – something that suits our orientation towards continuous improvement just fine.
JULIAN COSSMANN COOKE
Austin, TX, US


Same difference
It always amuses me when I read articles such as 'Life out of Balance' (September 2019) that makers and players alike consider an 'asymmetric violin' to be something out of the ordinary. While all stringed instruments are essentially symmetrical along the y-axis (AB in the diagram), there's nothing at all symmetrical about them along the x-axis (CD)!
That's before one considers that the treble and bass sides of any instrument always contain irregularities, be it in the f-hole carving, thicknessing or soundpost – indeed, it's often said that a perfectly symmetrical instrument would be aesthetically jarring, just as nobody has a perfectly symmetrical face.
CATHY HAUPT
Adelaide, Australia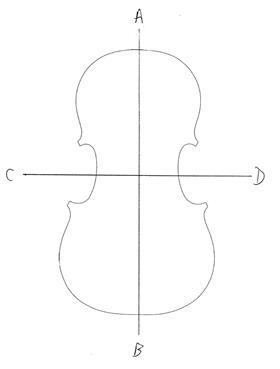 Mistaken identity
I would like to specify that the picture used by Yann Poulain to illustrate the central pin (Soundpost, September 2019) shows a violin of Andrea Guarneri with a top made later by Bernardo Calcagni, and not a c.1560 Andrea Amati. I had the chance to see this instrument during restoration at Reuning & Son Violins in Boston, MA, US, in March 2010. Thanks to Christopher Reuning for giving me the rare opportunity of taking this picture.
NICOLAS GILLES
Villeneuvette, France

On the lookout
Over the past nine years of research for my forthcoming book I have seen stunning instruments by many interesting Dutch luthiers. However, work by one maker – mentioned as one of the most talented of the Dutch school – has been particularly hard to find. I would love to study an original instrument by Cornelis Kleynman (1626–86, sometimes called Cornelis Wessels) to get a better understanding of his style during different periods. An original label is shown below, but he could have used other styles as well.
If any readers have a labelled example of Kleynman's work or know of one, I would be very grateful if they could email me at info@hubertdelaunay.com.
HUBERT DE LAUNAY
Utrecht, the Netherlands