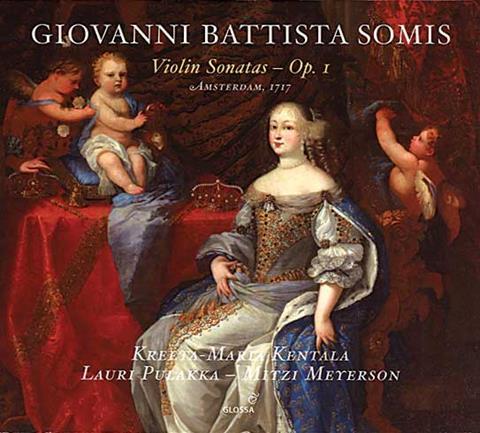 The Strad Issue: January 2015
Description: Lively performances of music by a little-known but key 18th-century composer
Musicians: Kreeta-Maria Kentala (violin) Lauri Pulakka (cello) Mitzi Meyerson (harpsichord)
Composer: Somis
As a pupil of Corelli and teacher of Pugnani and some of the 18th century's leading French violinist–composers, Giovanni Battista Somis (1686–1763) was a central figure in the development of the violin repertoire. His four published sets of violin sonatas demonstrate his gradual liberation from Corelli's influence towards the adoption of a French galant idiom, but his twelve sonatas op.1 owe a heavy debt to the elegant, balanced manner of his mentor.
Kreeta-Maria Kentala's interpretations of this significant but unfairly neglected repertoire are intelligent and imaginative. She is a stylish violinist who mixes a clean, often sweetly singing line with tasteful ornamentation in the slow first movements, picks up the pace with energetic, athletic and well-articulated Allegro central movements and captures the spirit of the dance-oriented finales. Mitzi Meyerson provides inventive harpsichord accompaniments and cellist Lauri Pulakka clearly enjoys every opportunity to participate in melodic dialogue or imitation. The players vary the instrumentation, add small reprises, pizzicatos, unusual harpsichord registrations, and even contributes some introductory sections, including one featuring the sound of a bell in the first movement of no.11. While their interpretative licence may not be to everyone's taste, their creative thirst certainly brings the music to life. The recording is luminous and sensitively balanced.
ROBIN STOWELL