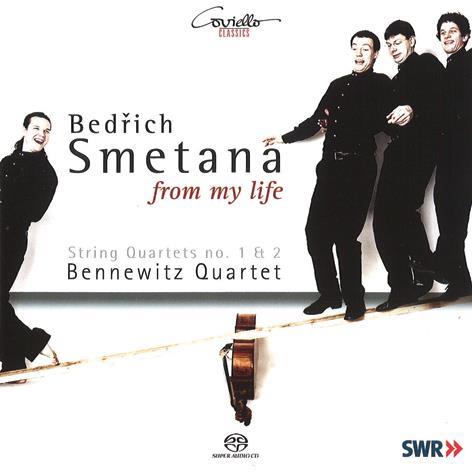 The Strad Issue: January 2011
Musicians: Bennewitz Quartet
Composer: Smetana
Listeners may justly feel short-changed by this disc's mere 46 minutes' duration, but they will not grumble about the quality of these performances. The young, prize-winning Bennewitz Quartet interprets some of its native music with style and intensity, conveying the poignant, intimate autobiographical content of both works with drama, expression and the utmost sensitivity.
Ji?í Pinkas sets the ball rolling in no.1, taking its passionate opening viola solo by storm. His colleagues respond accordingly in an interpretation that has a unique presence and sense of command, and yet is remarkably faithful to the composer. Their account of the Polka is forceful and robust in its outer sections, which are arguably driven too hard, but their Largo is beautiful and tender, and their finale has all the requisite fire, sinew and vigour.
The more diffuse, less memorable Second Quartet lies well here in its predecessor's company, courtesy of this ensemble's beautifully proportioned, dramatic account, especially of the agitated third movement and the Presto finale. The recording has less warmth and ambience than some of its rivals – there is often an edge to Ji?í N?me?ek's violin tone, especially on the E string – but readers can nevertheless invest in it with confidence.


ROBIN STOWELL