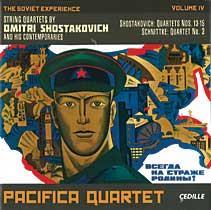 The Strad Issue: January 2013
Description: Performances that evoke both 19th-century tradition and 20th-century realities
Musicians: Pacifica Quartet
Composer: Shostakovich, Weinberg
The third and penultimate volume in the Pacifica Quartet's distinguished Shostakovich cycle (revealingly subtitled 'The Soviet Experience') boasts the same sense of emotional imperativeness that distinguished the previous instalments. Some ensembles play it cool with Shostakovich's later pieces, some go furrowed-brow over to the 'dark side', but the Pacifica (and in this respect only the Beethoven Quartet is its equal) plays with a post-Romantic sensitivity that emphasises the music's deep roots in the 19th-century Russian tradition as well as its bewilderment at the callousness of the Soviet regime. This is immediately apparent from the natural pairing of nos.9 and 10, which occupy consecutive opus numbers: 117 & 118 – and in which music of heartfelt introspection is nerve-shatteringly offset by explosions of activity, such as the Ninth's hell-for-leather finale and no.10's nihilistic Allegretto furioso.
In the seven brief movements of no.11, the Pacifica players fully convey the Quartet's many moments of desolation and sardonic humour without laying its protestations on with a musical trowel, and trace the chilling, winding melodic lines of no.12 with an espressivo earnestness that dramatically enhances the music's impact without in any way unsettling its narrative flow.
The semantic double-takes and grinding cries for help of Mieczyslaw Weinberg's Quartet no.6 form the perfect musical bedfellow, further enhanced by the radiant engineering and David Fanning's exemplary booklet annotations.
JULIAN HAYLOCK