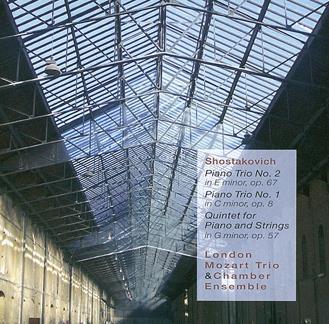 The Strad Issue: January 2008
Musicians: London Mozart Trio, London Mozart Chamber Ensemble
Composer: Shostakovich
Shostakovich's chamber music is well represented in the catalogue, but certain interpreters outshine others in prising out the ironies and ambiguities that often underlie.
Best here is the pre-war Piano Quintet (the opus number is wrongly given as 'op.5'). This is because the capable viola player, David Greenlees, and the thoughtful second violin of Dimitar Burov introduce notably greater security to the ensemble's playing overall. Later movements are impressive. Pianist Colin Stone offers a strong lead in the Scherzo, all five convincingly capture the moody demeanour of the Intermezzo, and the jazzy, 'play Bach' laid-backness of a teasingly unpredictable finale rounds off admirably. The weighty Fugue feels less assured: momentum and direction seemingly get mislaid. The movement appears hesitant, and fails to match the skilled, Brittenesque skittishness of the opening Prelude.
The First Piano Trio (1922) is the work of a composer aged scarcely 17. The eloquent, lyrical reading by all three interpreters seems wholly apt. Above all, one relishes the rich resonance of cellist Leonid Gorokhov, who brings lovely character to the lower string line.
Enjoyment of the Second Piano Trio (1944) will depend on your view of the lead that Krzysztov Smietana offers, or doesn't. As in the Fugue, there seems a slight lack of direction. Stone once more excels, his welcome lucidity putting the two strings rather in the shade. The Largo, a lament for Shostakovich's friend Ivan Sollertinsky, surely needs a stronger sense of direction, and the Jewish underlay of the finale is not really exposed to great effect, although the recorded sound is pleasing enough.
Roderic Dunnett