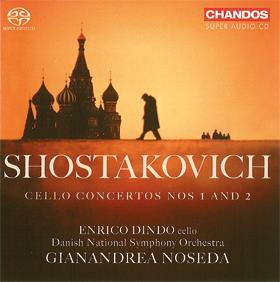 The Strad Issue: January 2007
Musicians: Dmitry Yablonsky (cello/conductor) Maxim Fedotov (violin) Ekaterina Saranceva (piano)* Galina Petrova (piano)† Russian Philharmonic Orchestra‡
Composer: Shostakovich
Dmitry Yablonsky offers a wonderfully warm and sensitive performance of Shostakovich's Cello Sonata, first heard in 1934, around the time of the composer's near-fatal brush with the Soviet authorities. The eloquent first Allegro, which unfolds at a leisurely pace, makes way for a fiery Scherzo, impressive in its unexpected shifts of pace and mood, with mysterious harmonics subtly inserted by the cello.
The substantial Largo features an extended, tender melodic line, rather like a sad Tchaikovsky song, which Yablonsky delivers exquisitely. Both performers manage convincingly the growth in tense excitement in the middle section. Latterly the movement grows more reflective, and touchingly serene. Also delightful is the lightly prancing start to the final Allegro, which gradually becomes more agitated, yielding an exciting final few bars.
Shostakovich's much later Violin Sonata, written for Oistrakh, gets excitable and dramatic treatment from Maxim Fedotov, who brings an apt edginess and agitation to the central Allegretto, a full-blooded scherzo filled with dark tensions that have the feel of an impassioned outcry against injustice. There is considerable variety and interest in the concluding Largo, a prolonged Passacaglia movement that yields many contrasts of mood and atmosphere, including rather gloomy rhetorical outbursts, shy, soft passages of refinement and delicacy, and some affecting pizzicato.
Jablonsky's two spirited arrangements for cello and orchestra of material from Shostakovich's film The Gadfly are a shade succulent, but he plays the second with emotion and passion, and the solo cello is finely balanced against the orchestra. The Naxos recorded sound is on the whole pleasing.
Roderic Dunnett