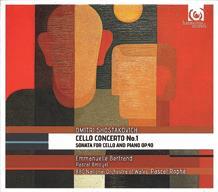 The Strad Issue: January 2013
Description: A vision of Shostakovich that works better in the chamber field
Musicians: Emmanuelle Bertrand (cello) Pascal Amoyel (piano) BBC National Orchestra of Wales/Pascal Rophé
Composer: Shostakovich
The arresting opening four-note motif of Shostakovich's First Cello Concerto should convey menace in its unnerving tonal ambiguity, yet the rather brisk delivery Emmanuelle Bertrand adopts here diminishes its weighty sense of anxiety. In the Moderato, Bertrand sometimes overcomplicates the line. The opening folk-oriented melody needs greater simplicity if the ensuing passages of chromatic anguish are to make a real impact. Furthermore, the false harmonics at the return of this melody suggest a desolate moment where the rustic idea is stripped bare, but Bertrand's fast tempo conveys an almost skittish vision.
By contrast, Bertrand navigates the ensuing cadenza in this clear recording with a forceful narrative, building up great intensity into the fleet-footed finale, where she is incisively partnered by the BBC National Orchestra of Wales. Here the interpretation, however, bows more to bravura rather than to the often-portrayed hysterical frenzy, although the latter characterisation is perhaps a more logical conclusion to the previous material of the cadenza.
Bertrand offers a closer affinity to the composer's emotional terrain in the lyrically constructed Moderato and Sonata – both composed in the 1930s. Masterfully partnered by Pascal Amoyel, she adeptly combines the forces of irony and fantasy in the second Allegro of the Sonata. But it is the hauntingly eloquent suffering of the Largo where both players are most evocative.
Joanne Talbot