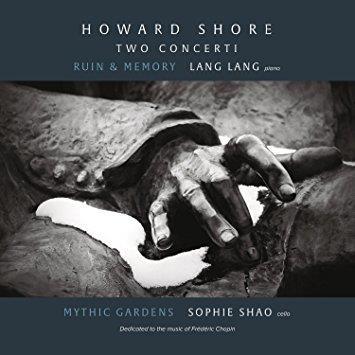 The Strad Issue: June 2017
Description: Two concert-hall concertos from a film-music heavyweight
Musicians: Sophie Shao (cello) Lang Lang (piano) China Philharmonic Orchestra/Long Yu, 21st Century Chamber Orchestra1/Ludwig Wicki
Composer: Howard Shore
Catalogue Number: SONY CLASSICAL 88985348732
If you liked the soundtrack for the film trilogy The Lord of the Rings, you might hope to enjoy these two concertos from the same pen. Sadly, however, in spite of their promisingly evocative titles there's nothing of the haunting, arresting quality of that music here.Howard Shore's cello concerto Mythic Gardens was composed as a companion piece to Ruin and Memory, a piano concerto to mark the 200th anniversary of Chopin's birth.
It was inspired, says Shore, both by the architecture of three Italian gardens and by the playing of Houston-born cellist Sophie Shao. In the first movement Shao, who studied with David Soyer and Aldo Parisot, gives a graceful and expressive performance. Her cello, an 1855 Derazey once owned by Casals, produces a pleasing tone, but in the Medici Gardens-inspired Largo, whose winding lines suggest endless mazes, I found myself craving less poise and more character in her playing.
The live recording, made in 2014, lacks crispness, and the solo cello sound is often rather too embedded in the orchestral texture. The third movement, a scherzo in mood, features impressively athletic, wide-ranging slurred semiquaver runs from Shao, but throughout the disc it is the lack of inspiration in the development of the musical material that really lets these works down.
Janet Banks