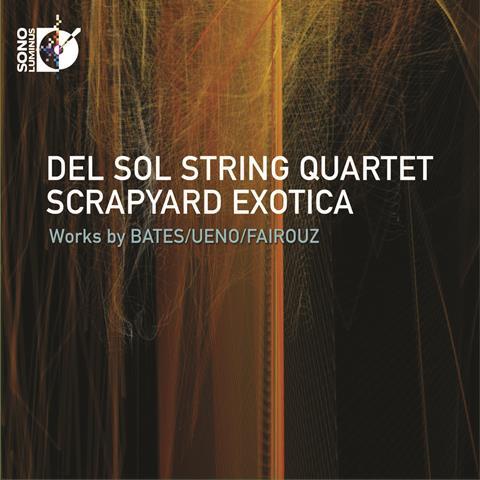 The Strad Issue: March 2016
Description: Samples, singing and other surprises in a collection of new works
Musicians: Del Sol Quartet
Composer: Bates; Fairouz; Ueno
This substantial recording project presents three works composed for the San Francisco-based Del Sol Quartet, a group dedicated to commissioning and performing new music. Each piece draws in its own way from outside the Western classical music tradition. Ken Ueno's 20-minute Peradam revels in its extremes of scrapes, savage pizzicato and harmonic clashes, but surprises with vocal parts (including throat singing from violist Charlton Lee) that blend, Ligeti-like, with the string lines.
Either side of this enjoyable strangeness are two scores that are more melodic. US composer Mason Bates made his name combining symphonic music with electronica. In his Bagatelles for string quartet and electronics, Bates has deliberately chosen a smaller and shorter format for his rhythmically propelled, texturally choppy composition, which brings together the string parts with samples created from a separate studio session. The result is a tightly wound, filmic work. Mohammed Fairouz's The Named Angels, in traditional four-movement string quartet structure, draws from Western and Middle Eastern melodies to craft repeated moments of great beauty.
Each composition is performed with commitment and precision, and the recording is crystal-clear whatever the music's timbre. The booklet notes are also noteworthy for their succinct but insightful thoughts on the music and artists, with multiple points of view from the composers and musicians, demonstrating the collaborative nature of the project.
Tim Woodall