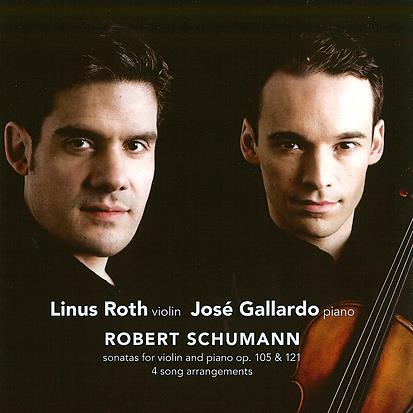 The Strad Issue: January 2009
Musicians: Linus Roth (violin) José Gallardo (piano)
Composer: Schumann
German violinist and Argentine pianist are an established duo and their rapport is evident in the dramatic D minor Sonata, which starts their programme. The opening chords are almost too abrupt, but Linus Roth has a fine, distinctive tone and once the Lebhaft is under way both artists show considerable spontaneity. They keep up a terrific tempo, but I do not feel rushed, as I do, for instance, with Paul Gulda and the Hagens in the Piano Quintet (Deutsche Grammophon). Roth and Gallardo are equal to the changing moods in the central two movements and they catch the agitated character of the finale perfectly.
There is an easeful swell to the rhythm as they begin the more lyrical A minor Sonata and they work up quite a lot of passion without tearing it to tatters. They are suitably rhapsodic in the Allegretto and once again an agitated finale ends a truly Romantic performance.
It is a nice idea to finish with four song transcriptions, including Joachim's of Abendlied, but suddenly Roth, who has been a model of tonal consistency up to now, sets several of the pieces positively a-quiver with vibrato. No Lieder singer would behave like that. The recordings are excellent.


TULLY POTTER