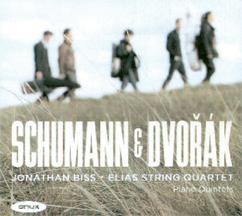 The Strad Issue: January 2012
Description: Spontaneous Schumann wins over tautened Dvorák in this well-intentioned coupling
Musicians: Elias Quartet, Jonathan Biss (piano)
Composer: Schumann & Dvorák
From the outset this is a reading of Schumann's Piano Quintet where a self-generating spontaneity sees the unbridled happiness of the opening movement pass almost in a trice. Nor does the slow movement's impetus get sidetracked, as is so often the case, in pointing to details, yet the ensemble is meticulously precise and the Elias's intonation spotlessly clean. In a scherzo taken very quickly, Jonathan Biss's crisp articulation is an essential ingredient, and the joyful mood of their opening movement returns in an unhurried finale where the texture is unfailingly transparent. Without reservation I commend this as a first choice.
In the case of the Dvo?ák I have reservations. It is a work that does not always travel well outside its native land, and early in the first movement I already miss those subtle nuances one hears, for instance, in the Panocha Quartet's Teldec recording. There remains much affection in the warmth of the strings, a second movement that is charmingly playful, and a finale full of vitality. I am sure this is an interpretation that would have matured and loosened up given more time, and I am sure it would have worked better, too, if subjected to a more soft-grained recording than the bright and delineated one that Onyx's engineers produce throughout.



DAVID DENTON