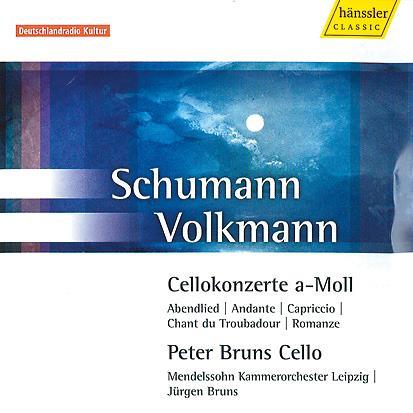 The Strad Issue: January 2010
Musicians: Peter Bruns (cello) Annegret Kuttner (piano) Mendelssohn Chamber Orchestra, Leipzig/Jürgen Bruns
Composer: Schumann, Volkmann
Juxtaposing a great composer with a neglected contemporary is seldom good for the latter. Here, fellow German Robert Volkmann's phrasing and harmonies seem all the more predictable when compared with Schumann's subtlety. Volkmann, though, could hardly have found better exponents than the Bruns brothers, with Peter's own close relationship with the orchestra as principal guest conductor since 2006 coming across powerfully in their music-making.
In Schumann's Concerto Peter Bruns's playing is exceptionally lyrical. He draws a wide range of tone colours and projects a powerful character from his mellow 1730 Carlo Tononi. The lovely cello duet in the central Langsam is movingly done, and there is a sprightly lift to the finale.
Volkmann's Concerto of five years later shares Schumann's key and three-in-one-movement structure, but is a showier, more virtuosic work, closer in line with mid 19th-century taste and chock full of drama, with operatic recitatives and extended octave passages. His shorter works, not mentioned in the booklet essay, include an extended bravura Romance, very much of its time, and the attractive, if not greatly original, Andante and Variations, all recording premieres.
Peter Bruns's new version of Schumann's Abendlied (with string orchestra) compares favourably with Casals's (with piano). He soars expressively and his rapport with the string section is a marvel. Balance is good, though the sound quality is unexciting.
JANET BANKS