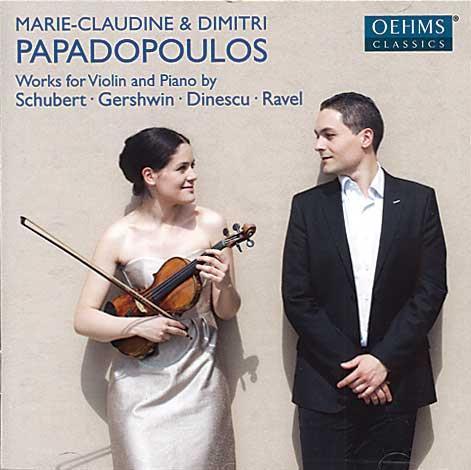 The Strad Issue: December 2014
Description: Performances that lack a sense of personal involvement from the young players
Musicians: Marie-Claudine Papadopoulos (violin) Dimitri Papadopoulos (piano)
Composer: Schubert, Gershwin, Dinescu, Ravel
The young French-born violinist Marie-Claudine Papadopoulos was awarded first prize in the German Association of Arts and Culture's 'Ton und Erklärung' competition held in Munich in 2012. That title carried with it this debut recording and the world premiere performance of the specially commissioned Etude de nuages by the Romanian composer Violeta Dinescu.
The brother-and-sister partnership approaches Schubert's A major Sonata with charm, in a performance that is meticulous in its observance of the score's tempo and dynamics. Much of the first movement is approached as an attractive dance, and a mood of fun fills the bubbling scherzo.
Yet here, and especially so in Ravel's Sonata, one senses a lack of personal involvement in creating performances that would set them apart them from the many alternative recordings. Particularly disappointing is Papadopoulos's straight-laced 'Blues' movement in the Ravel, and equally in the Porgy and Bess excerpts she overlooks the fact that the violin is playing the vocal line in arias that need to be rhythmically free and strongly characterised.
Moving to virgin territory in Dinescu's unaccompanied score, she seems to be set free as she creates the most beautiful translucent colours in what is a gorgeous score.
The recording has an ideal balance but is rather monochrome in texture.
David Denton