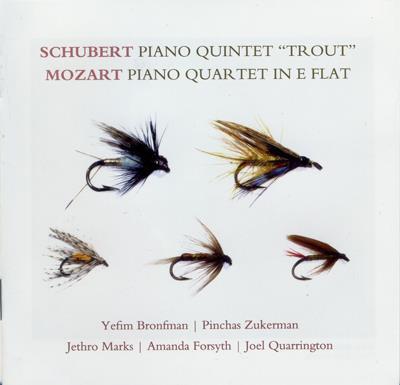 THE STRAD RECOMMENDS
The Strad Issue: January 2008
Musicians: Pinchas Zukerman (violin) Jethro Marks (viola) Amanda Forsyth (cello) Joel Quarrington (double bass) Yefim Bronfman (piano)
Composer: Schubert, Mozart
The standard of playing and musicianship is so high here that normal criticism seems impertinent. Even the Canadian-made recordings are irreproachable, with firm, audible bass lines, good piano tone and agreeable 'air' round the upper strings. So I offer the following remarks in a spirit of discussion rather than disputation.
The opening bars of the 'Trout' are made to seem even more like a miniature introduction than usual. I sampled several other versions and there are only a few seconds in it, but enough to make those bars sound extra slow in relation to the main tempo.
I cannot get the impression out of my head that despite the warmth of the string playing, this is a rather serious 'Trout', with an urgent surge to the first movement and quite a tough Scherzo. In between comes that idyllic Andante, with the pillowy tone of Jethro Marks's viola to the fore.
The theme for the variations is quite slow and courtly. I personally prefer a more constant pulse for the variations but they are pleasingly performed. The finale is again a bit on the serious side. If you like that approach, rather than a Viennese lilt, this recording could be for you.
The Mozart is lovely and well shaped, with the proviso that I prefer to have every repeat, having been treated to them by other groups. How nice to hear Amanda Forsyth's cello so clearly delineated. Yefim Bronfman and Pinchas Zukerman are as excellent in all their doings as you would expect.
TULLY POTTER