50-date tour will culminate in farewell concert at Wigmore Hall in March 2018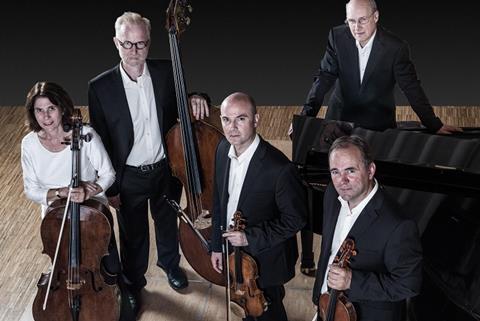 The Schubert Ensemble, a group specialising in music for piano and strings founded 35 years ago in the UK, has announced its 35th and final season. Culminating in a farewell concert at Wigmore Hall, London, in March 2018, the 2017/18 season will take in some 50 dates, chiefly in the UK and US, though it will open in Romania on 23 September at the Enescu Festival, Bucharest.
'We are thrilled to have such an exciting season ahead,' said founder, pianist William Howard. 'It will be one of mixed emotions, as we visit some wonderful venues for the last time, say goodbye to many promoters who have become good friends to the ensemble, and perform many of our favourite pieces for the final time together.
'But it was very much our intention that the ensemble should finish in celebratory style and we look forward to enjoying our remaining concerts to the full and finishing on a high.'
As well as Howard, two other members have been with the ensemble for its entire life, while the current line-up of Howard, Simon Blendis (violin), Jane Salmon (cello), Douglas Paterson (viola) and Peter Buckoke (double bass) has been steady for 23 years.
The ensemble's core repertoire is that of the piano quartet, but it is named in honour of the Trout Quintet, and with double bassist Peter Buckoke it has both championed existing bass quintet repertoire and commissioned some 15 new works. Indeed, a commitment to new music has characterised the group's repertoire in general, with 37 substantial works commissioned in its lifetime, as well as a further 45 smaller works through the 'Chamber Music 2000' project.