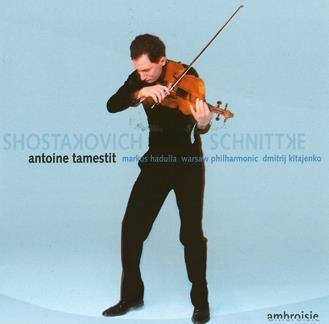 The Strad Issue: January 2009
Musicians: Antoine Tamestit (viola) Markus Hadulla (piano) Warsaw Philharmonic Orchestra, Dmitri Kitaienko (conductor)
Composer: Schnittke, Shostakovich
The coupling of these two undisputed masterpieces of the late 20th century is a stroke of genius, and yet so obvious that it seems strange that it hasn't been done before. Schnittke's Concerto was finished just days before the composer suffered a severe stroke, the first of several that eventually felled him, and Shostakovich's Sonata is the composer's last work: he died shortly after finishing it in hospital. In both pieces, the music seems to reflect these valedictory circumstances, reaching expressive depths that can make it unbearable.
I heard Antoine Tamestit perform the Schnittke Concerto at the finals of the Munich International Music Competition in 2004, and again three years later, shortly before this recording. His interpretation, of an overwhelming intensity to begin with, has grown in conviction and authority and deserves to be mentioned alongside that of the work's dedicatee, Yuri Bashmet. Tamestit's collaboration with Dmitri Kitaienko and the Warsaw Philharmonic is a close-knit one, with the soloist as a primus inter pares within the piece's unusual instrumentation. Both here and in the Shostakovich Sonata, where he is joined by his regular piano partner, the excellent Markus Hadulla, Tamestit exhibits an amazingly wide sound palette, which however never descends into mere noise, even in the wildest Schnittkean excesses. His vibrato is beautifully varied, reflecting the changing moods and harmonies even within a single sustained note. There are several such moments of magic in this truthfully recorded CD, none more so than its very end, with the viola merging into the piano's overtones in the Sonata's final C major chords.
Carlos María Solare