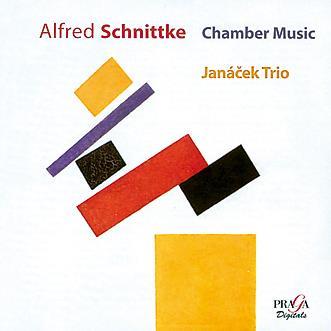 The Strad Issue: January 2008
Musicians: Janácek Trio
Composer: Schnittke
These four works date from the decade 1982–92, years when Schnittke was in full command of his own voice; and the last of them, the Piano Trio, beautifully makes the point. Its 25 minutes of music are lovingly advocated by these three lucid, articulate Czech performers, and the first-rate recording quality displays Praga's usual elegance and good taste.
This important two-movement work ranges from initial stasis through energy and Schnittke's slightly predictable input of Weltschmerz and Angst (both galvanising, rather than enervating, qualities in this fine composer's output) back to a serene, redemptive ending, in which Helena Ji?íkovská's violin soars away, making the piece sound a bit like a post-Soviet Lark Ascending.
It is Ji?íkovská who also plays A Paganini, the most remarkable of three works for solo instrument on this well-planned disc. The work, questing and assertive by turns, yields a formidable challenge for a violinist in its 13-minute span. Marek Novák's reading of Madrigal, written in memory of Russian violinist Oleg Kagan and premiered by Kagan's widow, cellist Natalia Gutman, in 1991, rather lacks Ji?íkovská's musical depth and insights, but while fractionally prosaic it is technically polished, especially very high on the A string (in this case, without harmonics).
Having excelled in the trio, Markéta Janá?ková offers a thrilling account of Schnittke's 1987–8 First Piano Sonata, at times meditative and introspective, at others electrifying and fiercely combative. You can hear a lot of Prokofiev, Szymanowski and even Britten in these works, but the voice is unmistakably Schnittke's own.
Roderic Dunnett