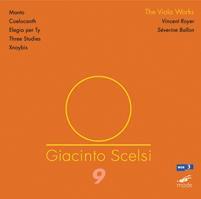 The Strad Issue: January 2011
Description: Gripping performances of the music of an Italian modernist
Musicians: Vincent Royer (viola) Séverine Ballon (cello)
Composer: Scelsi
Volume nine of Mode's Scelsi edition collects together the composer's complete works for viola, in persuasive performances by contemporary music specialist Vincent Royer, a former Ensemble Modern player and now professor of chamber music at the University of Liège. Quite apart from rising impeccably to the pieces' substantial technical challenges, Royer also delivers the works with a sure sense of musicality.
The earlier pieces – Coelocanth (1955) and Three Studies (1956) – are full of winding, sinewy melodies, and at times even seem to approach tonality. Royer's performances are graceful yet forceful: there's a core of steel to his sound that's present even when his tone is whispery and half-heard.
But it's the later works – infamously communicated 'through' the composer from afar (he claimed he was only the 'postman') – that pose the real challenges. Xnoybis (1964) sticks obsessively to single notes, with only inflections and slides to chart its microtonal progress, yet Royer's performance – full of strange noises and shocking pizzicatos – is gripping. He gives a highly accomplished reading of the horrendously complex Manto (1957), which even requires the performer to sing and play simultaneously in its final movement. Cellist Séverine Ballon is an eloquent partner in the more subdued Elegia per Ty (1958). There's just the sense that in making it all sound so effortless, Royer also misses some of the grit and drama of the music. Recorded sound is full and resonant.


David Kettle