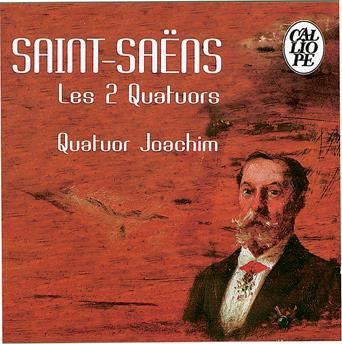 THE STRAD RECOMMENDS
The Strad Issue: January 2008
Musicians: Joachim Quartet
Composer: Saint-Saëns
On the whole, string players did very well by the mellifluous creative genius of Camille Saint-Saëns. Such was the ease with which he produced expertly crafted scores that occasionally his music was left bereft of emotional imperativeness, yet when really fired up, as in such unforgettable scores as the Introduction and Rondo capriccioso, Havanaise, Third Violin Concerto and First Cello Concerto, he was the equal of almost any composer of his time.
The quartets are as masterfully constructed as they are beautifully written. The first takes up where Mendelssohn's op.12 and 13 quartets left off in their application of Beethoven's 'Razumovsky' techniques to an essentially Romantic, lyrical disposition. Like the young Mendelssohn (his op.44 quartets are a different matter entirely), Saint-Saëns keeps his espressivo on a relatively cool setting, especially in the slow movement which is (at least in part) composed as a homage to Beethoven's time-suspending style of spiritual communion. It is an incredibly difficult work to bring off convincingly, making the Joachim Quartet's achievement appear all the more remarkable. Not only is the ensemble's tonal blend and intonation absolutely spotless, but the players also possess exactly the kind of radiant purity for which this music cries out. Most importantly of all, they strike an ideal balance between its Romantic sensibilities and its neo-Classical impulse.
The Second Quartet is a neglected masterpiece that finds Saint-Saëns at his most enchanting and exquisite. Here he allows his inspiration to flow and exalt more naturally, and the Joachim musicians respond with playing that is so finely attuned to its every gesture that it is difficult to conceive of it ever being better performed. The seductively velvety engineering provides the icing on the cake.
JULIAN HAYLOCK