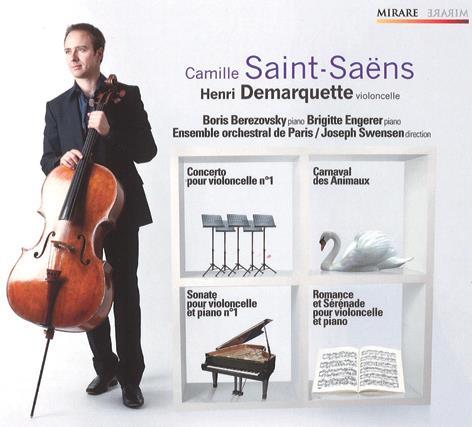 The Strad Issue: January 2011
Musicians: Henri Demarquette (cello) Boris Berezovsky*, Brigitte Engerer† (piano) Ensemble Orchestral de Paris/Joseph Swensen
Composer: Saint-Saëns
Although Henri Demarquette has selected some well-worn Saint-Saëns 'chestnuts', they veritably sparkle on this excellent CD. The First Sonata often comes across as a brilliantly crafted work with little substance. Here, however, that impression is utterly transformed from the first note as the performers command attention and engage imaginatively with the music. Boris Berezovsky in particular is inspired, with a quixotic, changing tonal range that blooms, then recedes ,yet at all times is full of shape and interest. Both artists really converse musically and characterise the phrases wonderfully. Brigitte Engerer is equally masterful in her partnership with Demarquette in the refined yet passionate Romance and Sérénade.
Technically and musically, Demarquette is well-suited to Saint-Saëns's sound world, and particularly excels in the Concerto, where he judiciously balances Classical poise with fervent expression. His tone is warm and rich, and his cascades of ascending double-stops are flawless. But it is his sharply drawn characterisation of the melodies that really ignites the whole performance.
The participants of this excellently recorded CD are clearly having fun in the Carnival of the Animals, where the delightful cameos glitter with witty and colourful performances, not least the hapless skit on student performers in 'Les pianistes'.


Joanne Talbot