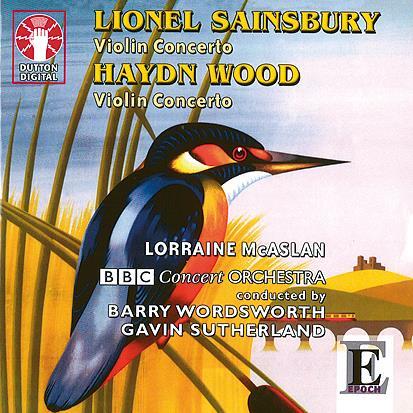 The Strad Issue: January 2010
Musicians: Lorraine McAslan (violin) BBC Concert Orchestra/Barry Wordsworth, Gavin Sutherland*
Composer: Sainsbury, Wood
Following on from her outstanding account of York Bowen's Violin Concerto for Dutton with the late, much-missed Vernon Handley, Lorraine McAslan once again proves a highly persuasive advocate of British music that lies off the well-beaten track. Composed in 1928 and premiered five years later by Antonio Brosa, Haydn Wood's Concerto is a Romantic blockbuster that one can imagine Heifetz having taken under his wing. Beautifully written for the instrument – Wood was a former prodigy violinist – imagine Dvo?ák and Bruch synthesised with Conus and Elgar and you'll have some idea what to expect. McAslan and the BBC players sound so thoroughly inside the idiom that it seems barely credible that this is one of the work's few performances since the 1930s. As a bonus, McAslan includes a heartfelt Adagio that is all that remains from Wood's 1905 Concerto in B minor, and plays it with such heart-rending tenderness and passionate intensity that one can only hope that the outer movements also re-emerge eventually.
Lionel Sainsbury's Concerto is a more recent work, composed in 1989 and premiered by McAslan in 1995 with the artists on this recording. Again the idiom is broadly post-Romantic, and McAslan rises to the work's considerable technical challenges with an engaging sincerity and heart-warming brilliance that is matched by the wide-ranging depth of the engineering. While neither work quite deserves a place at music's high table, played like this they create an indelible impression and leave one aghast that such skilfully written music is not heard more often.


JULIAN HAYLOCK