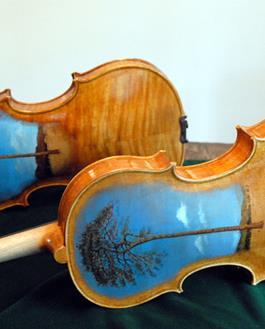 Crown Prince Naruhito of Japan has performed on a viola made from debris from the March 2011 tsunami, reports the Asahi Shimbun. The Crown Prince, the eldest son of Emperor Akihito and Empress Michiko, played the instrument at an orchestral concert given by alumni of Tokyo's Gakushuin University on 7 July.

The viola was made by luthier Muneyuki Nakazawa using driftwood from areas devastated by the tsunami and earthquake. The viola's soundpost was fashioned from a piece of the lone 'miracle' pine on a beach in Rikuzentakata that survived the tsunami. An image of the pine tree was painted on the back of the instrument.

The viola is one of several instruments that Nakazawa has made for a project to support and show solidarity with the victims of the disaster. The instruments will travel around the world, to be played on by hundreds of musicians, in a kind of musical relay. The project is called 'Sen no neiro de tsunagu kizuna' (Bonds made of a thousand tones).


Click here to hear Crown Prince Naruhito playing the driftwood viola (0:24 onwards)